Want a special birthday candle that sings for your loved ones ?
You've come to the right place !
Alright, pictures and video of the Singing Candle.
Picture of the Singing Candle :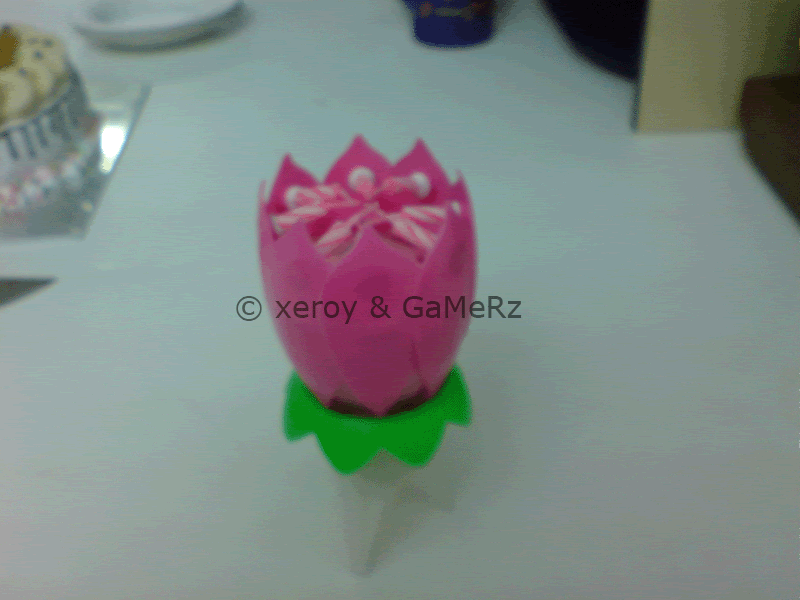 Picture of the Singing Candle flat on table: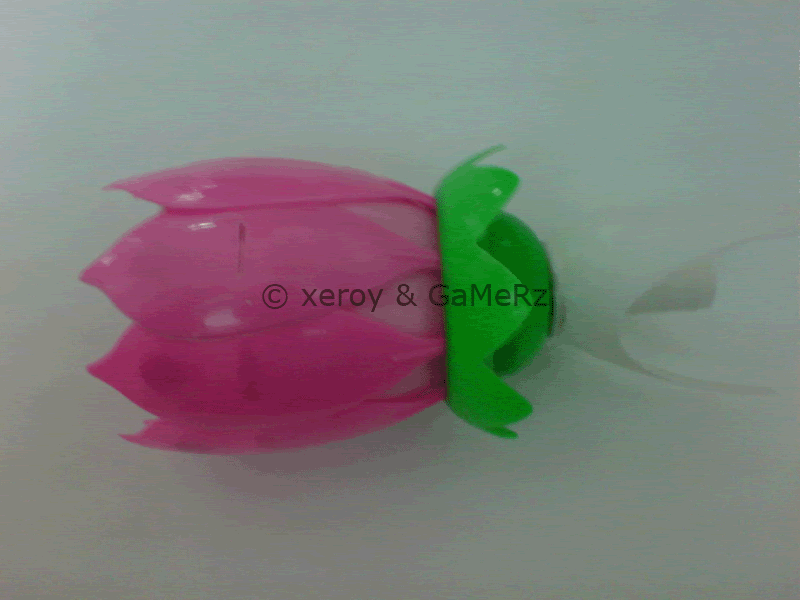 Top view of the Singing Candle: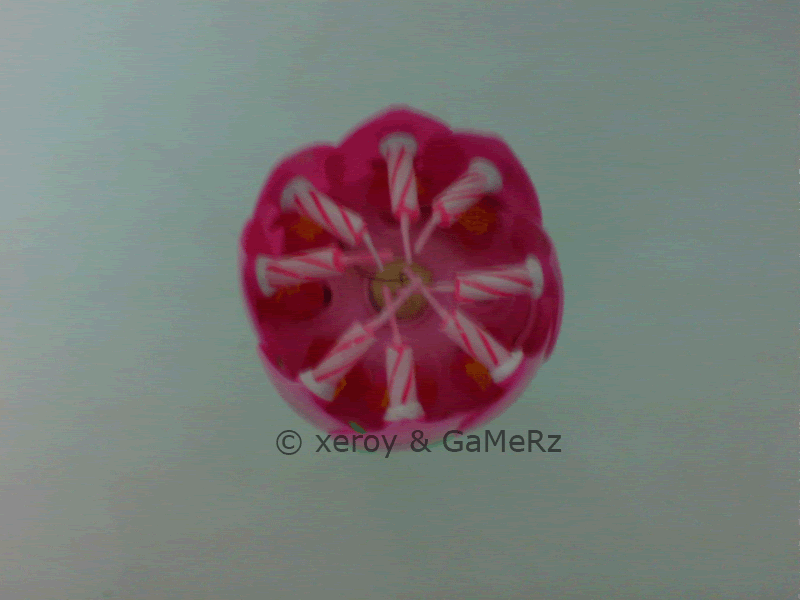 Accessories that comes with Singing Candle:
* That stick is used to ignite the Singing Candle. What you do is, you burn the stick using a lighter/match stick and bring it near those small candles. (Don't worry, instructions will be given)
** That small paper is used to write your age. After writing, you would put that piece of paper into one of the empty holes at the side of the Singing Candle (Once again, don't worry, instruction will be given)
This is where you stuck your small piece of paper after writing the age: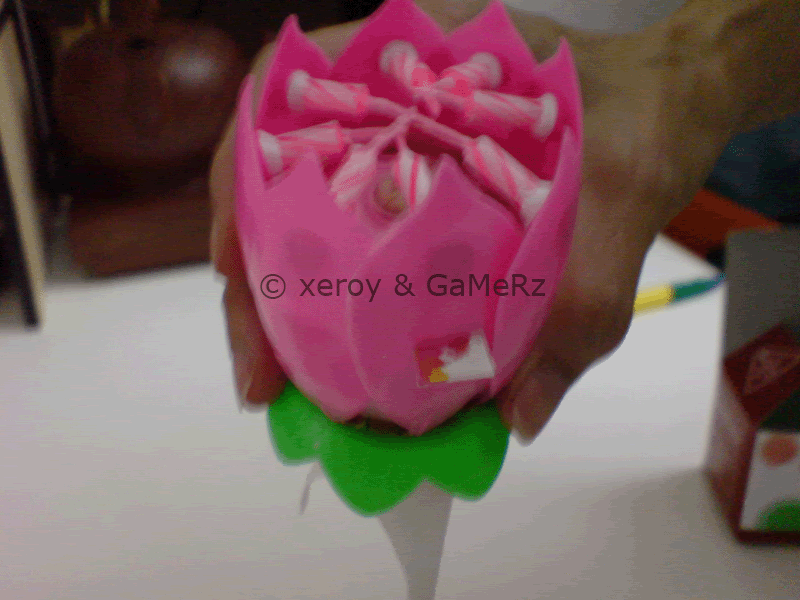 Picture of Singing Candle on the birthday cake before lighting up:
*Its a 1 KG IceCream cake from Ben & Jerry.
The aftermath of the Singing Candle: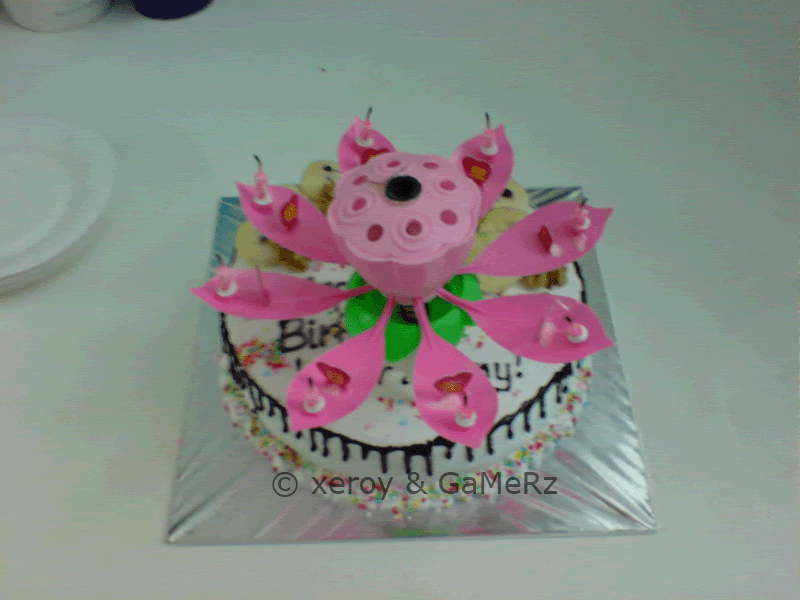 *There is still birthday song singing even after the candle is blowed out !
** All the small piece of paper you see are all chinese wordings.
Please watch the Video below, it gives you a clear idea how Singing Candle works.


http://www.youtube.com/watch?v=yCjlVbyUHGc
Now, let me explain to you more about it.
- Instructions to use the Singing Candle will be given.
- There is only 1 Candle only (BUT, its a huge one ! Refer to the pictures ontop)
- Once you light it up, there would be a huge flame followed by the melody of the standard "Happy Birthday" song.
- After a few seconds of the intense huge flame, the Singing Candle will then "explode" and open up into 8(Symbolizes Prosperity) petals each with a small candle on it.
- The music doesnt stop when the candle finishes burning ! Infact, it doesnt even stop unless u smash it.
Last but not least,
its going at
only
SGD$5.00/Candle
(without Delivery Charges)
Note: 1 candle per birthday cake is more than enough ! Its a quite a huge candle.

Payment Method:
Cash on Delivery(which means no Delivery Charges)
ONLY available if you meet me at Dover MRT Station or even better Singapore Polytechnic at whatever time I'm free. (I'm a student at Singapore Polytechnic) Please understand that I can only meet you at Dover MRT/Singapore Polytechnic at my free time. Hope you understand.
NOTE: The goods will only arrive on the first week of May 2007.


Bank Transfer:

The goods I ordered will only arrive around the first week of May 2007. Which means I can give you the goods only on first week of May 2007. If you're interested, send me an email with your contact number and when the goods arrive I'll send you a notification with the payment details before you made the payment.


For Bank Transfer, I'll be only able to send you your goods using Registered Mail only due to the fact that my cost is quite high and I might not be able to cover my cost if I meet you at your destination. Hope you understand.

About registered mail, I'm still not sure how much would the registered mail be. I'll try to find it out soon but you pay for the registered mail. I think it should be only SGD$2/SGD$3.




To purchase or to enquire,
Please email to

SingingCandle@gmail.com.